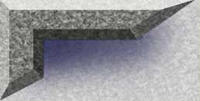 We Make Thinks Better!
Machining large, complex 5-axis aerospace parts isn't just about having a machine that has the capabilities. You also have to have the right method of making the part.

You can have all the right software, tooling and equipment, but if you don't have the experience and know how, then the final result will be scrap, not a part.

Omnicut has the right software and equipment, and more importantly, Omnicut has the experience to make your large part efficiently and at a great price.
~~~~~~~~~~~~~~~~~~~~~~~~~~~~~~~~~~~~~~~~~~~~~~~